Trends Every Social Media Marketer Should Know for 2021
2020 has been a year of rapid change. With so much going on in the world, of course distinct social media trends arose. Here are the top trends every social media marketer should be aware of going into 2021.
Nostalgic and Inspirational Content
Many people spent 2020 yearning for a time when things were brighter. Nostalgia has been trending this year throughout all niches — from cast reunions like The Fresh Prince and Parks and Recreation to the revival of anime classics like Inuyasha (with the new sequel Yashahime).
Tip — Check out this post from Nintendo commemorating the 35th Super Mario Bros anniversary with a throwback to the first game — complete with a retro TV. Notice that they ask viewers to share their favorite Mario memories, encouraging engagement.
Closed Facebook Groups
This year of isolation has led people to look for more meaningful ways to interact online. Closed groups have become popular as people seek public interaction that feels a little more "private". Be proactive in maintaining your group. Consistently post engaging content. Create ground rules, and monitor the group to make sure these rules aren't being broken. Share exclusive content and promotions to give members the VIP treatment.
Tip — Facebook groups can be a great supplement to online courses as well. Make Art That Sells offers online classes about the art industry, and utilizes Facebook groups to create a classroom community for students. Students are encouraged to share their work in the group, give and receive feedback, and ask their fellow students questions.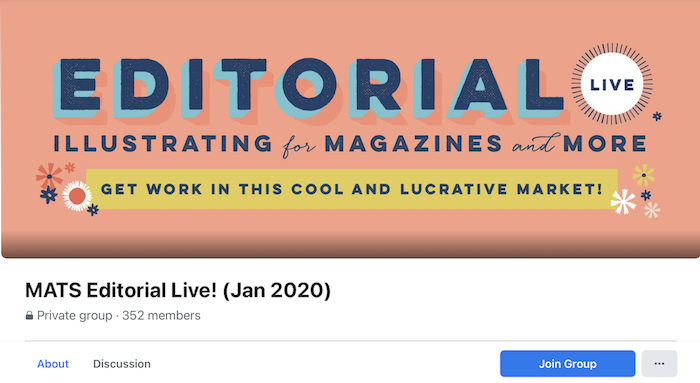 Be Conscious of Social Issues
Black Lives Matter overtook social media this year. Cause-driven messaging will continue to be important in 2021 and for the foreseeable future. Younger generations like Millennials and Gen Z want to support brands that are transparent and use their influence for good.
Tip — Mean what you say. Don't post about an issue just because it's trendy. People are savvy, and will call you out if you are not taking actions to back up your words. Remember that controversial Pepsi advertisement from a few years ago?
Short-form Videos and User-Generated Content
Make more video content, but keep it short. You don't have your audience's attention for long with these types of videos so be sure to capture your viewers within the first three seconds. This also means you should avoid anything text-heavy as viewers will not have time to read the text. But definitely do include captions. Remember that most people will be viewing these videos without sound, and some viewers may be hearing-impaired.
Tip — Save time making content by sharing content made by your followers. A great example is these quick videos that ModCloth shares of their customers trying on various outfits. A great way to show off their products, save time, and make their fans feel included!
TikTok
2020 saw an increase in the popularity of TikTok — up 800% from Jan 2018, and enjoying about 50 million daily active U.S. users (source). It has inspired similar features like Instagram Reels and LinkedIn stories.
Tip — Not sure where to begin with TikTok? In a recent webinar, social media commentator, Matt Navarra, recommended that small brands start out by collaborating with influencers on Tik Tok rather than creating their own content. Check out this collab Korean cosmetic brand Innisfree did with influencer @glowwithava. Note as well the emphasis on the affordability of the brand with a whole skincare routine achieved in under $50.
Collaborate with Influencers
Influencer marketing has been around for a while and is here to stay. People find influencers more relatable and more trustworthy than traditional advertisements.
Tip — Influencer marketing is a great avenue to connect with niche audiences. Marketers have been trending towards collaborating with mircoinfluencers as they can reach more targeted audiences than someone with millions of followers or celebrities. This example shows Roborock sponsoring a video for rabbit lifestyle YouTube channel Lennon the Bunny to advertise their robot vacuum to rabbit owners.
Start or Sponsor a Podcast
In 2020, over 155 million people listened to a podcast every week (source). Why so popular? Multitasking is key. Podcasts offer people the opportunity to listen to an article, book, lecture, show, or anything they wish while doing something else. They can enjoy a thrilling tale or learn something new while commuting to work, having a meal, exercising, or doing chores.
Tip — Sponsor an existing podcast. This is a great way to reach niche audiences of highly engaged listeners. Most listeners will listen to a podcast most of the way through, so you don't have to worry about your advertisement being skipped over. CDJapan sponsored an episode of the anime lifestyle podcast TrashTaste, and the promotion did not appear until nearly an hour into the episode!
Optimize Online Shopping
COVID-19 brought on the era of curbside pickup and increased online shopping. Utilize social media to make online shopping more accessible than ever to your customers. Remember that ModCloth post from earlier? That post is also shoppable on mobile. Click on the shopping bag icon, and you will find links to take you to the ModCloth website to purchase the product. In some cases, you can shop directly from the Instagram app, like with this post from Shiseido.
Tip — Create promotions exclusive to social media to encourage people to follow your social media accounts.
Need help marketing your business on social media? My Pocket Partner wants to make it easier for you by taking on your workload so you can get back to growing your business. If you have more questions on what we can do to help your business, email us at info@mypocketpartner.com for customized solutions.